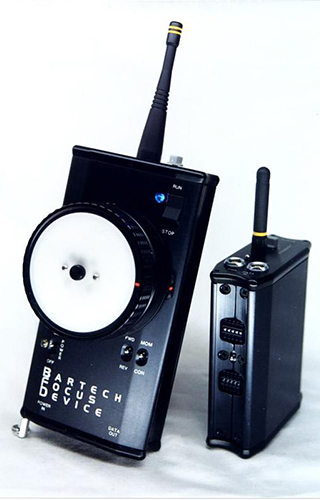 900 MHz Data Transmission, 8 Selectable Sub-channels

Rotary Style Control Module That Can Lock Together to Other Units For Multichannel Operation (Focus unit shown)

Manual Lens Calibration

Interchangeable 1 Channel Receiver/Amplifier Modules, each with Remote Camera Run Outputs

12-bit Resolution with All 12-bits Always Available (A First!)

Fast, Simple One-Pass Manual Lens Calibration

Control Modules Powered by an Inexpensive 9V Battery (18 hours of operation)

Direct Potentiometer Input to Receiver/Amp for Servo-type Operation, or Direct Connect Transmitter to Receiver (Hard Wire)

Automatic Standby Battery Saver Mode & Low Battery Indicator

Automatic Motor Shut Down to Save Power
The Bartech Focus Device exceeds the performance of the old standards (Seitz, WRC-4) at a fraction of the price. Its compatibility with existing motors (Heden, ZB/SLD, FMG-6) allows the use of readily available used equipment as well as the new M-One motor. Its modular approach and interchangeable components allow you to start simple and build your way up to a full featured system, while providing back-ups in case of equipment failure.
The Bartech Focus Remote Device is a simple yet powerful and accurate remote follow focus system allowing for remote control of the focus of cine lenses. We carry both the analog and digital receiver to cater to all preferences, as well as the classic Heden motors and the newer M-One. The Bartech can be powered by camera if output power is provided, or can otherwise be fitted with an Anton Bauer Gold Mount Battery plate.