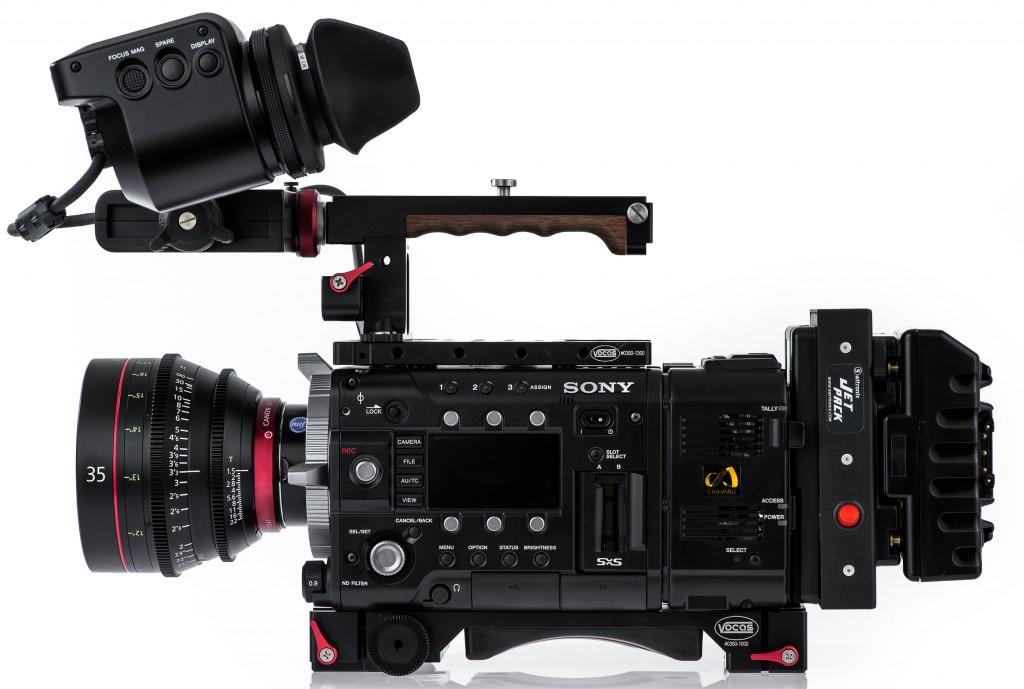 High speed: 240 fps
From stunts and explosions to the fall of a single raindrop, F55 high-speed shooting is a powerful storytelling tool. The camera also performs Slow & Quick (S&Q) motion for overcranking and undercranking. This enables you to alter the narrative by speeding up or slowing down the action, choosing frame rates from 1 frame per second (fps) to the maximum in 1 fps increments. And with the F55, every high speed shooting, overcranking and undercranking mode delivers full quality. There's no sacrifice in bit depth and no "windowing" of the sensor. So there's no crop factor, no loss in angle of view.
4K/2K RAW options
The ultimate camera capture system would record every nuance of light and shadow from the image sensor, preserving every detail from every pixel for full exploitation in post-production. If you want the maximum flexibility that 4K and 2K RAW deliver, Sony's optional AXS-R5 Access Memory System recorder is a remarkable choice. Unlike some RAW systems, Sony's 16-bit linear capture preserves more tonal values than the human eye can differentiate. This is also the ideal match for the 16-bit linear ACES workflow. For simplified creation of offline proxies, the camera even provides simultaneous onboard recording to SxS® cards using the same start frame and stop frame as the RAW recording.
With the F55, 2K RAW is not just a technical specification. It's a business model. Sony 2K RAW gives you everything you love about Super 35 cinematography with no crop factor, no telephoto conversion on your lenses. 2K RAW is a smart choice for HD productions and it's just one quarter the data of 4K RAW. 2K RAW High Frame Rate has arrived with the free v2.0 upgrade. (Normal speed 2K RAW with the free v3.0 upgrade, expected December 2013.)
Mount Options
The F55 is designed to work with a wide spectrum of equipment. It's versatility grants it PL and Canon mounting ability for any shoot.
Sensor
Sensor Type
Super 35mm equivalent single-chip CMOS with global shutter
Pixels
Total: 11.6 MP
Effective: 8.9 MP
Sensitivity
Luminance: 2000 lx, 89.9% reflectance
Video Gamma: T11@24p (3200K light source)
S-Log2 Gamma: ISO 1250 (D55 Light source)
Dynamic Range
14 stops
Signal to Noise Ratio
57dB (Video Gamma, 24p, Noise Suppression OFF)
Recording
Video Recording Format
MPEG-2 Long GOP
HD 422 mode: CBR, 50 Mbps max, MPEG-2 422P@HL
Audio Recording Format
Linear PCM (2 ch, 24-bit, 48-kHz)
Recording Modes
XAVC 4K: 4096 x 2160 at 23.98p, 25p, 29.97p, 50p, 59.94p
XAVC QFHD: 3840 x 2160 at 23.98p, 25p, 29.97p, 50p, 59.94p
XAVC 2K: 2048 x 1920 at 23.98p, 24p, 25p, 29.97p, 50p, 59.94p
XAVC HD: 1920 x 1080 at 23.98p, 25p, 29.97p, 50p, 59.94p
MPEG4 SStP: 1920 x 1080, 23.98p/24p/25p/29.97p
MPEG2 HD: 1920 x 1080 at 50i, 59.94i, 23.98p, 25p, 29.97p
MPEG2 HD: 1280 x 720 at 50p, 59.94p
Shutter Speed
1/24s to 1/6,000s
Shutter Angle
4.2 – 360°(electrical shutter)
Slow Shutter
2, 3, 4, 5, 6, 7, and 8 frame accumulation
Slow & Quick Motion Function
XAVC 4K/QFHD: 1-60p (NTSC)
XAVC 4K/QFHD: 1-50p (PAL)
XAVC HD/2K: 1-180p (NTSC), 23.98p/29.97p with option
XAVC HD/2K: 1-150p (PAL), 25p with option
XAVC HD: 1-60p (NTSC)
XAVC HD: 1-50p (PAL)
White Balance
Preset (3200K, 4300K, 5500K), Memory, ATW
Gain
-3, 0, 3, 6, 9, 12, 18 dB, AGC
Gamma Curve
Standard (x6)
HG1, HG2, HG3, HG4, HG7 and HG8
S-Log2 Gamma
Interface
Memory Cards
SxS (x2, ExpressCard 34 slots)
SD card slot (x1)
Video Output
HD-Y or HD Sync (tri-level) V1.0
Analog Composite (VUP)
HD-SDI Output
HD mode: SDI 1/2 Line Output, SDI 3/4 Monitor Output (character on/off)
4K mode: SDI 1/2/3/4 Line Output (character on/off), HD-SDI/3G-SDI switchable
Timecode
TC IN/OUT switchable (x1)
Genlock
BNC input (x1)
HDMI
A Type output (x1)
Audio
Input: XLR-type 3-pin with Line/Mic/Mic +48V/AES/EBU selectable (x2, female)
Output: phono jack (CH-1, CH-2)
Headphone: Stereo mini jack (x1)
Speaker: monaural
USB
USB device, Mini-B (x1)
USB host, type-A (x1)
Wi-Fi
USB host, type-A (x1)
DC Output
4-pin (x1), 11 V to 17 V DC (MAX 2.0A) w/ battery adapter
Remote
8-pin (x1)
General
Lens Mount
FZ-mount, PL-mount (with supplied adapter)
Built-in Filters
Clear, 0.9 (1/8 ND), 1.8 (1/64 ND)
Power Requirements
DC 12 V (11 V to 17.0 V)
Power Consumption
Approx. 25 W (while recording XAVC 4K 60p, EVF Off, LCD monitor Off, 4K SDI On)
Battery Operating Time
With BP-FL75: approximately 150 minutes
With BP-GL95A: approximately 210 minutes
Operating Temperature
32 ~ 104° F (0 ~ 40° C)
Storage Temperature
-4° ~ +140° F (-20° ~ +60° C)
Dimensions
Without protrusions: 7.13 x 7.88 x 12.25″ (15.1 x 18.9 x 21 cm)
Weight
Body only: 4.88 lb (2.2 kg)
1)F-55 Camera Body
1)PL Mount Adaptor
1)PL Mount Port Cap
1)EF Mount Adaptor
1)EF Mount Adaptor Port Cap
1)Top Cheese Plate
1)Top Handle
1)EVF Bracket
1)Adaptor Screw
1)Sony EVF
1)EVF Eye Cup
1)V-Lock Battery Plate w/XLR entry
1)EVF Cable
1)Hand Held Bridge Plate
1)V-Lock to GoldMount Adaptor
1)Anton Bauer T2 Battery Charger
2)Hirose Male 4-Pin to Lemo Male 4-Pin 0B
1)V-Lock Baterry Plate to Single Pin cable
4)PAGLink HC-PL94T Time Battery
2)Hand Held Grips
2)Hand Held Short Extenders
2)Hand Held Long Extenders
1)Hand Held 15mm Lightweight Bracket
1)Sony SxS Pro+ USB 3.0 Card Reader
1)USB Cable
1)15mm Lightweight Lens Support
2)SxS Pro+128GB Cards 128GB
2)SxS Card Case
4)15mm Short Rods
1)Power adaptor
1)AC Cable
3)15mm Lightweight Bridgeplate for DSLR 3 pieces
1)Vocas Small Cheeseplate
1)Vocas Side Cheeseplate/Cable Protector
1)Case
1)Sony AXS-R5 4K RAW Recorder
1)Sony AXS-512S24 Media Card
1)Sony AXS-512S24 Media Card
1)Sony FS700 HXR-IFR5 Interface Unit
1)Sony AXS-CR1 AXSM Reader
1)AXS-CR1 AC Power Supply
1)USB 3.0 Cable
1)AC Cable
1)Case
Call in for a tailored package list on this camera for your productions budget.
Sony's F55 is the chameleon camera. It supports cinematography—and live television broadcasting. It shoots onboard 4K—and also 2K/HD. It has a Super 35mm sensor—and also offers Center Scan mode to shoot with 16mm PL lenses or with 2/3-inch lenses via B4 adaptor. The F55 can change personality depending on the needs of the project, the day or the individual shot. It's uniquely engineered to reward its owners now—and far into the future.
4K On-board Recording
While the F55 offers the option of glorious 16-bit 4K and 2K RAW recording using the outboard AXS-R5 recorder, not every production is prepared to take advantage. That's why the camera offers four internal recording formats, including the first 4K recording facility built into the camera itself. Internal modes range from 50 Mbps to 240 Mbps (at 24p), for images from HD to 2K to 4K. 2K XAVC internal recording has arrived with the free v2.0 upgrade. You can choose the image type, codec, processing complexity and file size that match the needs of each project.
Vast Exposure Latitude
Cinematographers paint their images with light and shadow. So the ability to render tones from deepest shadows to brightest highlights is a crucial test of any digital camera. The F55 excels, with 14 stops of exposure latitude. DPs have noticed that the camera holds remarkable detail in the highlights, while noise in the blacks is extremely low. The result? Graceful rendering of scene contrast, even in searing sunlight. The camera is rated at ISO 1250 (S-Log 2 gamma, D55 light source). In fact, the camera is so sensitive that one cinematographer actually recorded starlight in exterior night scenes!