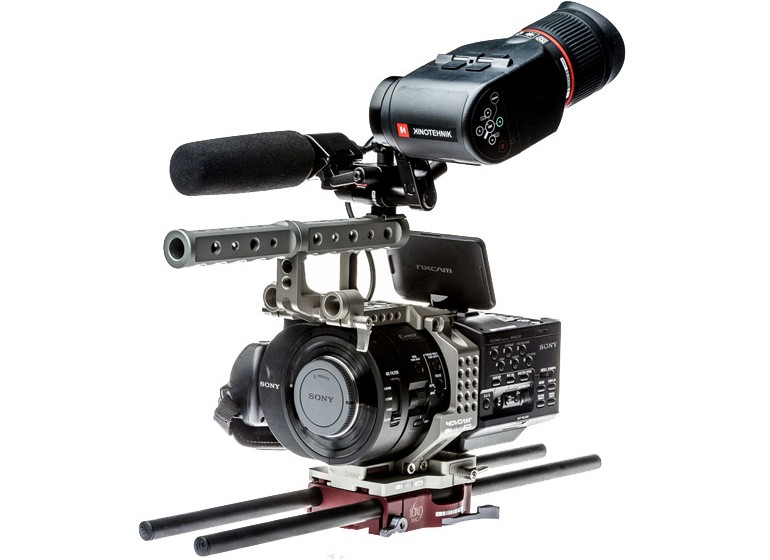 Image Sensor
4K Exmor Super 35 CMOS
Video Recording Format
HD: HD MPEG-4 AVCHD format compatibleSD: MPEG-2 PS (same as DVD)
Frame Rates
60p, 50p, 24p, 30p, 25p
Super Slow Motion
120fps, 240fps, 280fps, 960fps
Signal System
50/60Hz (NTSC/PAL)
BNC Connector
3G/HD-SDI/4:2:2/8 bit (59.94p, or 50p)
HDMI Output
HDMI 4:2:2 8-bit (59.97p & 50p, 29.97p, 25p, 23.98p)
Audio Sampling
HD: Linear PCM (2c, 16-bit, 48kHz) / Dolby Digital 2ch, 16-bit, 48kHzSTD: Dolby Digital 2ch, 16-bit, 48kHz
Inputs/Outputs
Audio In: (2) XLR, Line/Mic/Mic and +48V phantom powerAudio Out: (2) RCA L&RComponent Out: HDMI 1.4, RCA type via AV jackEarphone: 3.5mm Stereo

Lens Connector: E-Mount hot shoe

MIC In: (2) XLR

Monitor Speaker: Yes

Timecode Out: HDMI 1.4 (embedded SPTE TC Out)

Test Out: HDMI 1.4

USB: Mini-AB/Hi-speed

Memory Card Slot
SD/SDHC/SDXC Memory cardMemory Stick Pro
LCD Monitor
3.5″ Wide LCD (approx. 921,600 dots) (1920 x 480), 16:9 aspect
Microphone
ECM-XM1 Shotgun type monoaural mic
Power Requirements
AC adapter / battery 8.4V / 7.2V
Power Consumption
5.6W
Dimensions (WxHxD)
Body only: 5 x 4 x 7 5/8″ (126.5 x 101.5 x 193.5 mm)
Weight
8 lbs (2.76kg)
Available in PL & EF mount

4K Exmor Super 35mm CMOS Sensor

Capture 1920 x 1080/60p Video

Pal Color & NTSC Color

Includes 18-200mm Lens

NXCAM Recording Format (AVCHD)

LCD 3.5″ Screen with VF Attachment

Up to 960 fps Super Slow Motion

ISO 500 (0 dB) to ISO 16,000 (30 dB)

Dual XLR, HDMI & 3G/HD-SDI Connectivity

FMU Port Supports Optional Memory

Future 4K Upgrade (Not Included)
Unlike smaller, broadcast-style sensors or the larger "full-frame" sensors of some DSLRs, the NEX-FS700′s imaging area matches that of standard Hollywood film cameras, providing complete compatibility with cine-style film lenses, as well as the Sony 18 – 200mm lens included with the camera (that's 27 – 300mm in terms of 35mm equivalence). The sensor's large size offers a variety of other advantages, including increased control over depth of field, higher sensitivity in low light, lower image noise, and an exceptional dynamic range.
Able to shoot full 1080p video in a range of frame rates up to 60p, the FS700 provides the option of recording AVCHD footage onto SD card/MemoryStick or via the FMU (flash memory unit) port, or it can output 4:2:2 video (with embedded timecode) via HDMI 1.4 or 3G/HD-SDI to an external recording unit. Simultaneous recording to both is also possible when instant backup is called for. There's no stinting on audio, either, as the camera includes not only a shotgun microphone with mount/carrying handle, but dual XLR inputs for recording uncompressed, professional-level sound from an external source.
One unique feature for a camcorder of this class is the FS700′s ability to record bursts of super-slow motion video at rates up to a whopping 960 fps. (These bursts range from 8 to 16 seconds, depending of the frame rate). Full-resolution recording is possible at up to 240 fps; at 480 and 960 fps, resolution is reduced.
The 3G/HD-SDI port will get expanded capability when a future firmware upgrade is available (not included). This will allow 4K output via the BNC as a data stream, which can be recorded to an optional Sony 4K recorder.
Other included features–such as a 3.5″ LCD panel with detachable with viewfinder attachment, super sensitivity, a built-in ND filter and up to 960 fps super slow motion, all help to set this model in a class truly by itself. Not only will it intercut perfectly as a 2nd unit or B camera, it can stand on its own in applications as diverse as indie film, commercials, music promos and education.
1) Sony NEXFS700 Camera Body
1) Sony18-200 AF E-Mount Lens
1) Sony LCD Screen Hoodman Viewfinder
1) Sony ECM-XM1 On-Board Shotgun Mic
1) EVF/Shotgun Kinotehnik Mount
1) Kinotehnik EVF
1) Novoflex Nikon Mount Adaptor
1) 16×9 Inc. PL Mount Adaptor
1) 16×9 Inc. PL Mount Support Bracket
1) Movcam Bottom Riser
1) Movcam Side Cheese Plate
1) Movcam Top Cheese Plate
1) 16×9 Inc. Bridge Plate
1) 16×9 Inc. Dovetail Plate
1) Shape Hand Held Handles
1) Shape Shoulder Mount
1) Anton Bauer Batter Plate
1) 24″ Steel Rod
1) 21″ Carbon Fiber Rod
1) Anton Bauer Tandom Charger
1) Anton Bauer Hytron 50 Battery
1) Sony AC-VL1 Battery Charger
1) Sony NP-F770 Lithion Battery
1) Sony Camera AC Adaptor
1) Sony RMT-845 Camera Remote
1) Raw Steel 32GB SD Card
1) Secure Digital Media Card Reader (USB)
1) Pix 240 Recorder
1) Pix Caddy
1) SanDisk 240gb Solid State Drive
1) Magnetic Hoodman
1) Pix AC Adaptor x 1
Hollywood Camera Presents our Sony NEX FS700 Cinema Package (See tab for details)
The Sony NEX FS700 Cinema is the new wave of digital cinema. Lightweight, easy data management, excellent hand held capabilities. If you need cinema grade footage this is the set up for you. Will Mount easily on any cinema fluid head, and pops off into a hand held set up within seconds. Notice the 16×9 lightweight bridge plate that attaches to the Moviecam cage with top cheese stick handle. It also comes with an HD EVF manufactured by Kinotehnik giving the operator a beautiful LCD image to focus from. This beast can mount onto your fluid head with the Shape Hand Held Rig still attached making your life A LOT easier out in the field. This system has an Anton Bauer Gold Mount Battery System that can run all of the accessories for about 2 hours on one battery!
Also coming with this package are three lens mount options. We have a PL-Mount, Nikor Mount, and the Sony Mount attached to the camera. It comes with a shot gun microphone for sync sound. It gets even better. If you would like to edit directly from the camera just send the HD SDI signal from the back to the pix 240 recorder. All of your files will be in Prores 422 on the Pix SSD drive ready to import into final cut. The only thing to worry about on set with this camera is whether to shoot 240fps, 480fps, or 960fps for your slow motion shots!
The Sony NEX-FS700U Super 35 Camcorder with 18-200mm Lens is a fully professional large-sensor video camera. Hot on the heels of the FS100, this compact, highly modular camera uses a very similar-sized Super 35 CMOS sensor as the FS100. But as a marked improvement over that earlier model's sensor, the FS700 features a native 4K resolution sensor.