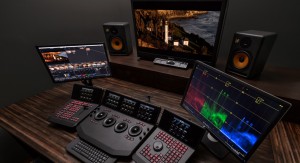 Designed and developed with filmmakers needs in mind, our brand new Color Grading room features a 4K theater style projector. The partnership with Bertone Visuals allows us to have a full Digital Intermediates facility for grading and mastering all the way to the theatrical DCP at Hollywood Camera. We have put together one of the most advanced and up to date post-production rooms in LA.
With a Sony 4K projector and a full DaVinci color correction system, our clients will have the luxury of grading in 4K with our colorist or have the option of just renting our color bay.
Our clients will have a wide array of post services available to them such as: transcoding, LTO back up, 4K/2K playback of their projects and 4K non-linear editing with AVID Media Composer or Adobe Premiere for projects that wish to have a 4K resolution timeline instead of the traditional HD.
For more information about our Color Grading room, pricing, and special offers please call 818 972-5000 or email info@hollywoodcamera.com