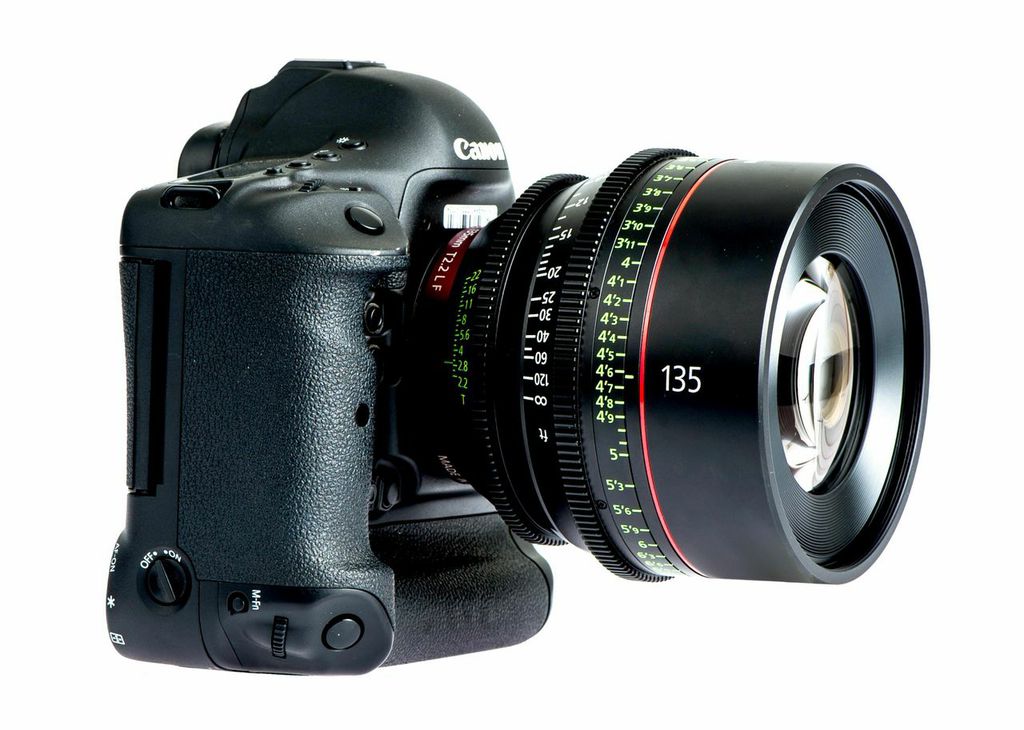 Imaging Sensor
Resolution
Approx. 18.1 million effective pixels (Total pixels: Approx. 19.3 million)
Recording Pixels
5208 x 3477 effective pixels
Sensor Type
Full-Frame CMOS sensor
Pixel Size
6.95 microns square
Lens Focal Length Factor
Same as indicated on lens (as indicated on lens)
4K: approx. 1.3x; Super 35mm Crop: approx. 1.6x
Lens
Compatible Lenses
Canon EF Lenses (excluding EF-S, EF-M lenses)
Canon EF Cinema (CN-E) lenses*
* Since the image circle of EF Cinema zoom lenses only support the image sizes of Super 35mm Crop and APS-C, vignetting will occur if you shoot larger image sizes.
Autofocus
Number of AF Points
61
Number of Cross-Type AF Points
1 to 5 cross-type AF points at f/2.8
– 10 to 20 cross-type AF points at f/4
– 15 to 21 cross-type AF points at f/5.6
– 1 cross-type AF point at f/8
(The number of cross-type AF points will differ depending on the lens.)
AF Area Selection Modes
Single-point AF (Manual selection)
– Auto selection 61-point AF
– Single-point Spot AF (Manual selection)
– AF point expansion (Manual selection, 4 points: up, down, left, and right)
– AF point expansion (Manual selection, surrounding 8 points)
– Zone AF (Manual zone selection)
AF point setting for vertical/horizontal orientation
Available
Focus Modes
One-Shot AF
– Predictive AI Servo AF*
– Manual focus
* For automatic AF point selection, the AF point to start the AI Servo AF operation can be selected. For automatic AF point selection, the active AF point can be displayed.
EOS Movie Shooting and Playback
Recording Format
MOV
4K: Motion JPEG

Super 35mm Crop, Full HD, HD
– MPEG-4 AVC (H.264), variable bit rate
– Audio: Linear PCM, Meta information is embedded in the MOV file (no separate THM file)
– NTSC and PAL
Coverage
Approx. 100% vertically and horizontally
Movie Recording Resolutions, and Frame Rates (progressive)
Color Space matches the TV monitor
Color Sampling Method
– YCbCr 4:2:2 (8bit): 4K
– YCbCr 4:2:0 (8bit): Super 35mm Crop, Full HD, HD, SD
Color Profile (Color Matrix)
– Rec. ITU-R BT.601: 4K, SD
– Rec. ITU-R BT.709: Super 35mm Crop, Full HD, HD
Image Creation Processing
– Based on current Picture Style
– Canon Log gamma * View Assist possible.
Video Range
Full range (0-255)
Timecode
Count up: Rec run, Free run
Designed specifically for the unique demands of the motion picture industry, the Canon 1D C Camera is a breakthrough in hybrid HDSLR technology–able to record stills, 4K and Full HD video, to either two on-board CF cards or uncompressed Full HD to outboard recorders.
One of the largest benefits of having 4K video technology in a DSLR body is that it will be able to go places that other larger 4K cameras cannot, providing new ways of composing and capturing scenes. It is also compatible with the entire fleet of Canon EOS lenses already available, and perhaps already in your arsenal. If you're looking for a powerful yet versatile rig that knows what a cinematographer wants and needs, then Canon answers the call with this impressive offering.
The EOS-1D C was built to shoot cinematic quality, in a compact and versatile EOS body. It is able to capture 4K (4096 x 2160), 24p (23.976) content directly to its on-board CF memory cards. It does this by using an 8-bit 4:2:2, high bit rate Motion JPEG compression scheme–allowing 4K content to be acquired in virtually any shooting environment, without an off-board external recorder.
Coupled with the camera's small form factor, the EOS-1D C allows 4K recording in environments that would normally be impossible or that would require much larger cameras, crews and permits. It also allows filmmakers to be discreet in crowded or hostile shooting environments, on and in vehicles, or even in underwater housings.
In addition to its large pixel size–for outstanding still images and 4096 x 2160 video–the camera provides the serious photographer with a generous ergonomic design, along with a smart layout of the controls. Dual CF card slots ensure that every shot can be captured, while the magnesium alloy body is dust and weather resistant, allowing you to get the job done without hesitation, or worry.
Producing the selective focus and field of view that made filmmakers fall in love with the EOS 5D Mark II, the standard Full-Frame HD setting on the EOS-1D C takes advantage of the camera's 36mm sensor width. This setting is ideal when filmmakers want to take full advantage of Canon's EF and EF Cinema prime lenses to capture that unique and distinct full-frame look–though Canon's EF Cinema zoom lenses require the Super 35mm Cropping setting, fixed focal length EF Cinema lenses will cover the area of a full-frame sensor.
As a new category of hybrid HDSLR cameras is created, capable of shooting 4K video–the motion picture industry standard–Canon and the EOS-1D C enter previously uncharted territory. Now cinematographers can shoot feature films from inside cars and planes, or documentaries using underwater housings–allowing a whole new perspective to be captured for the big screen.