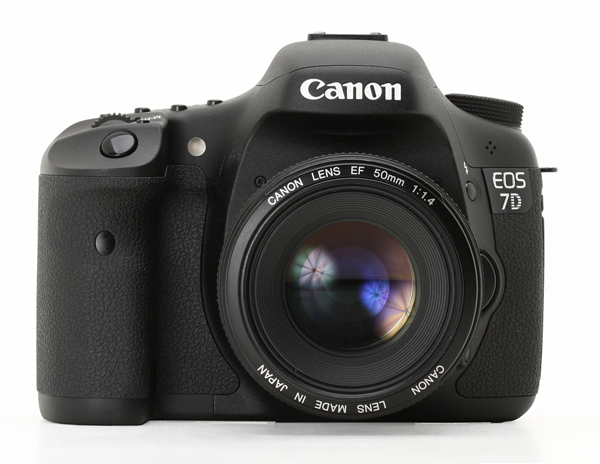 Type
Digital, AF/AE single-lens reflex camera with built-in flash
Recording Media
CF Card Type I and II, UDMA-compliant CF cards, via external media (USB v.2.0 hard drive, via optional Wireless File Transmitter WFT-E5A)
Image Format
22.3 x 14.9 mm (APS-C size)
Compatible Lenses
Canon EF lenses including EF-S lenses (35mm-equivalent focal length is approx. 1.6x the lens focal length)
Lens Mount
Canon EF mount
Image Sensor
Type
High-sensitivity, high-resolution, large single-plate CMOS sensor
Pixels
Effective pixels: Approx. 18.0 megapixels
Pixel Unit
4.3 µm square
Total Pixels
Approx. 19.0 megapixels
Aspect Ratio
3:2 (Horizontal: Vertical)
Color Filter System
RGB primary color filters
Low Pass Filter
Fixed position in front of the CMOS sensor
Dust Deletion Feature
(1) Automatic Sensor Cleaning
Removes dust adhering to the low-pass filter.

Self-cleaning executed automatically (taking 2 sec.) when power is turned on or off. Manual execution also possible (taking 6 sec.).

Low-pass filter has a fluorine coating.
(2) Dust Delete Data appended to the captured image
The coordinates of the dust adhering to the low-pass filter are detected by a test shot and appended to subsequent images.

The dust coordinate data appended to the image is used by the provided software to automatically erase the dust spots.
(3) Manual cleaning of sensor
Recording System
Recording Format
Design rule for Camera File System 2.0 and Exif 2.21
Image Format
Still: JPEG, RAW (14-bit, Canon original), sRAW, mRAW, RAW+JPEG
Video: MOV (Image data: H.264, Audio: Linear PCM)
File Size
(1) Large: Approx. 17.90 Megapixels (5,184 x 3,456)
(2) Medium: Approx. 8.00 Megapixels (3,456 x 2,304)
(3) Small: Approx. 4.50 Megapixels (2,592 x 1,728)
(4) RAW: Approx. 17.90 Megapixels (5,184 x 3,456)
(5) M-RAW: Approx. 10.10 Megapixels (3,888 x 2,592)
(6) S-RAW: Approx. 4.50 Megapixels (2,592 x 1,728)
Exact file sizes depend on the subject, ISO speed, Picture Style, etc.
Recording Functions
Images record directly to the CF card. With the WFT-E5A attached, image recording to the CF card and to the USB external media connected to the WFT-E5A will be possible as follows:
(1) Standard
No automatic switching of recording media.
(2) Automatic switching of recording media
When the current recording media becomes full, it switches to another recording media automatically and continues recording.
(3) Separate recording
Each recording media can be set to record a specific image-recording quality for each shot.
(4) Recording of identical images
Images can also be recorded at the same size to both recording media. (RAW+JPEG, M RAW+JPEG or S RAW+JPEG is possible).
(5) Backup to external recording media
Selected images, all images, and quick backup are possible.
Backup Recording
Enabled with Wireless File Transmitter WFT-E5A attached
File Numbering
Consecutive numbering, auto reset, manual reset.
Possible to create new folders and select folders in the CF card.
Firmware Version 2.0.X allows manually setting the file name, the first four alphanumeric characters, or the first three alphanumeric characters + image size.
Color Space
sRGB, Adobe RGB
Picture Style
Standard, Portrait, Landscape, Neutral, Faithful, Monochrome, User Defined 1-3
Autofocus
Type
TTL-CT-SIR AF-dedicated CMOS sensor
AF Points
19-point all cross-type AF (f/2.8 at center: Dual Cross Sensor)
AF Working Range
EV -0.5-18 (at 73°F/23°C, ISO 100)
Focusing Modes
(1) Autofocus
– One-Shot AF
– Predictive AI Servo AF
* For automatic AF point selection, the AF point to start the AI Servo II AF operation can be selected.
* For automatic AF point selection, the active AF point can be displayed.
– AI Focus AF (Switches between One-Shot AF and AI Servo II AF automatically)
(2) Manual focus (MF)
AF Point Selection
(1) Manual selection: Single point AF
(2) Manual selection: Spot AF
(3) Manual selection: AF point expansion
(4) Manual selection: Zone AF
(5) Automatic selection: 19 point AF
AF Function Registration/Switching
With a Custom Function, four types of AF function settings can be registered in a group: 1. AF area selection mode, 2. AI Servo tracking sensitivity, 3. AI Servo AF tracking method, and 4. AI Servo 1st/2ndimg priority.
*This function can be assigned to the depth-of-field preview button or lens A stop button by customizing camera controls/buttons (Custom Controls).
Selected AF Point Display
Indicated by transmissive LCD display in the viewfinder and on the LCD panel
AF Assist Beam
When an external EOS-dedicated Speedlite is attached to the camera, the AF-assist beam from the Speedlite will be emitted when necessary.
Video Shooting
File Format
MOV (image data: H.264; audio: Linear PCM (monaural))
File Size
Recording Size: 1920 x 1080 (Full HD), 1280 x 720 (SD), 640 x 480 (SD)
Frame Rates
1920 x 1080 (Full HD): 30p (29.97) / 24p (23.976) / 25p, 1280 x 720 (HD): 60p (59.94) / 50p, 640 x 480 (SD): 60p (59.94) / 50p
Continuous Shooting Time
Approx. 12 min. (Full HD); 12 min. (HD); 24 min. (SD)
Based on Canon's testing standards using a 4GB card.
Focusing
Autofocus: Quick mode, Live mode, Face Detection Live mode; manual
Exposure Control
Program AE, Manual exposure
Exposure Compensation
±3 stops in 1/3- or 1/2-stop increments
Dimensions and Weight
Dimensions (W x H x D)
Approx. 5.8 x 4.4 x 2.9 in./148.2 x 110.7 x 73.5mm
Weight
Approx. 28.9 oz./820g (body only)
Operating Environment
Working Temperature Range
32-104°F/0-40°C
Working Humidity Range
85% or less
With a host of features designed to enhance every facet of the photographic process, from still images to video, the Canon EOS 7D represents an advanced class of camera. Made to be the tool of choice for serious photographers and semi-professionals, the EOS 7D features an 18.0 Megapixel APS-C size CMOS sensor and Dual DIGIC 4 Image Processors, capturing tremendous images at up to ISO 12800 and speeds of up to 8.0 fps. The EOS 7D has an all cross-type 19-point AF system with improved AI Servo AF subject tracking and user-selectable AF area selection modes for sharp focus no matter the situation. The EOS 7D's Intelligent Viewfinder provides 100% coverage and displays user-selected AF modes as well as a spot metering circle and on-demand grid lines. iFCL Metering with 63-zone dual-layer metering system uses both focus and color information to provide accurate exposure even in difficult lighting. The EOS 7D also captures Full HD video at 30p (29.97 fps), 24p (23.976 fps) and 25p with an array of manual controls, including manual exposure during video shooting and ISO speed selection. The EOS 7D features a magnesium alloy body that is dust and weather resistant and shutter durability of up to 150,000 cycles. Compatible with over 60 EF and EF-S lenses as well as with EOS System accessories, the creative opportunities — not just with stills but also with video — are beyond amazement.