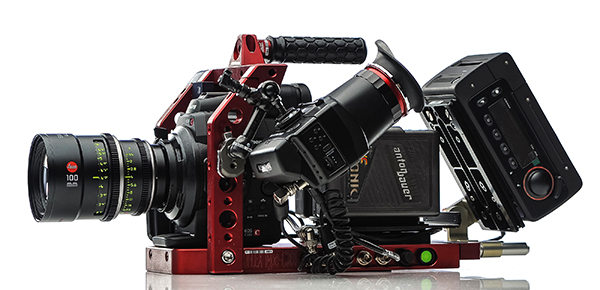 Rugged, Durable, and Streamlined
Solid State / No Moving Parts
Compact Modular Design
Perfect Balance for Handheld / Steadicam / Remotehead Operation
Designed with Filmmakers in Mind
(1) Auto detecting HD/SDI BNC input
(4) 3G / Gold Pin HD/SDI Outputs
(1) P-Tap 12-volt power Outlet
(4) 3-Pin 12-volt Fischer Power Outlets
(1) 8.4 volt Lemo for isolated and constant camera power
Cinoflex Camera Cage offers adapter plates for Canon C300, C500, 5D mkII and mkIII, Nikon D800(E), RED, and other camera bodies and hosts. All cameras mounted on the Cinoflex will provide nodal positioning and industry standard lens height for familiar operation and utilization of all existing camera accessories.
The Cinoflex mounts the Canon C300 body on a nodal point and centers the axis of the image sensor and lens in common form with traditional film cameras. Users can use all Arriflex baseplates and matte boxes with perfect alignment, such as BP-9 / BP-8 / BP-5 / MB-18 / MB-14 / MB-18 ETC., ETC. Equipped with 4 isolated HD/SDI 3G outputs, the Cinoflex feeds clean video images for everyone on set (up to 200' from the camera).
All accessories, including Lens control, monitors, cinetapes, EVF's, zoom controls, and everything else, can be powered by 4 standard 3-pin Fischer 12V outlets and an unregulated D-TAP 12-volt plug. The Canon EOS C300 is powered by a robust 8.4 volt lemo plug that regulates and distributes power for hours of recording off a single (or dual) battery.
Video Input: (1) HD-SDI BNC (Gold Plated Amphenol) w/ embedded audio
Video Output: (4) HD-SDI BNC (Gold Plated Amphenol) w/ embedded audio -the Amphenol BNC connectors are military grade, water and corrosion resistant and offer zero loss of image quality -AJA technology is used for video distribution
Power Output: (1) 2 pin Lemo regulated at 8.4V for camera power (4) 3 pin Fischer 12V unregulated power for 12V accessories (1) D-Tap 12V unregulated from IDX P-V2 plate -Vicor technology is used for the power regulation.
Accessory mounting screw holes: 3/8"-16 Chassis: 100% nodal and balanced with camera; single piece of 6061-T6 Aluminum
Included accessories: (1) Right side handle bracket, (1) Rubberized tapered handle, (1) DC Power cable for C300
Included Hardware: (2) Stainless steel 3/8"-16 handle bracket bolts, (2) 3/8"-16 Camera Body bolts, (2) 1/4" Camera Body bolts Included Tools: (1) HEX key 5/16, (1) HEX key 3/16 Options: Rods 15mm or 19mm, Shoulder mount, handle grips, cross bridge bracket, accessory cubes
Dimensions: 327mm (12.8") L x 135mm (5.3")W x 27mm (1") H (w/o handle bracket)
Weight: 2.3 kg (5.1 lbs)