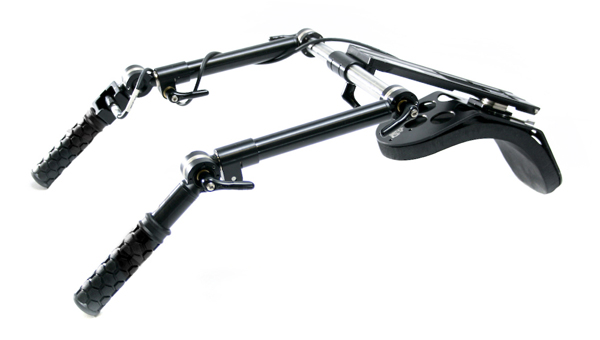 Dovetail interface allows quick setup; 20 seconds from tripod to hand held

Multi axis adjustment allows shoulder pad to conform to any shoulder

Two axis (rotational) adjustment shoulder pad

Fore/aft linear adjustment shoulder pad

Designed specifically for Arriflex style Hybrid bridge plates (435, Arricam, Moviecam, Phantom, etc.)

Utilizes conventional bicycle grips (use ours or bring your own)

Telescopic and rotating handle extensions

Handles and extensions use Arriflex compatible rosettes

Mounting point for ViewFactor Origo remote start/stop button

Available as a system or a la carte

RED One owners will need the ET Arri-Style Hybrid Base from RED.com or similar Arri compatible bridge plate.
The industry's most configurable and innovative shoulder mounting solution for film and digital motion picture cameras. Fully compatible with the RED One of today, as well as the Scarlett and Epic of tomorrow. Element Technica's new hand-held system combines innovative design with exceptional workmanship and materials.