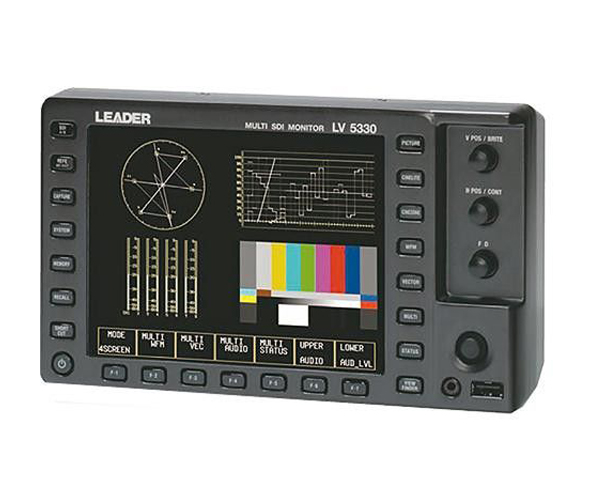 The LV 5330 Multi-SDI Test Monitor from Leader is designed for on-camera and portable applications. 
It offers picture, waveform, vector, audio, and status screens that can be displayed individually or in multi-screen representations. 
It also includes Cinelite and Cinezone on-picture measurement functions to facilitate readings that can be understood both by technical and operational personnel.

Other features include settable error-level monitoring and alarms, as well as extensive data analysis. A screen-capture function is designed to facilitate communication between production and post-production personnel and aid in project documentation.
Inputs/Outputs

SMPTE 291M




SMPTE 299M (HD-SDI)




SMPTE 272M (SD-SDI)

Connectors

(2) BNC

Power

12VDC (10 to 18V), 18W maximum

Dimensions (HxWxD)

5.05 x 8.5 x 2.5″ ( 128 x 215 x 63mm)

Weight

2.9lbs (1.3kg)
This test unit monitors (2) SD/HD-SDI sources and displays picture, CINELITE, CINEZONE, waveform vector, 5-bar, audio, and status displays in various combinations

It features a built-in 6.5″ TFT-LCD XGA display (1024 x 768) for enhanced waveforms and picture representations

CINELITE offers on-picture measurements and CINEZONE offers false color displays and peaking function to facilitate camera focus and exposure setups

Use this instrument to monitor R,G,B levels and composite gamut with a 5-bar display

Time-code referenced gamut error logs facilitate material QA and improve workflows

User-settable error levels and alarms facilitate monitoring

Embedded audio is displayed in (2) audio channels that are user-selectable and fed to a headphone monitoring output

Picture and waveform representations can be captured, reviewed, and compared in real time

A USB connector allows for the use of a jump-drive for storing captured screens, presets, and software/firmware updates

Various display adjustments facilitate monitor matching within a production or studio environment

(30) presets permit quick access to setups and USB storage of setups allows each user to personalize the instrument

The unit accepts Black Burst, as well as tri-level sync for external reference and facilitates system timing

This unit can be mounted in a standard equipment rack and occupies one half width by 3U of rack space

The instrument also features top and bottom mounts for tripod attachment

This unit offers XLR power or can be used with a separately available AC adapter

A battery attachment plate can also be added separately