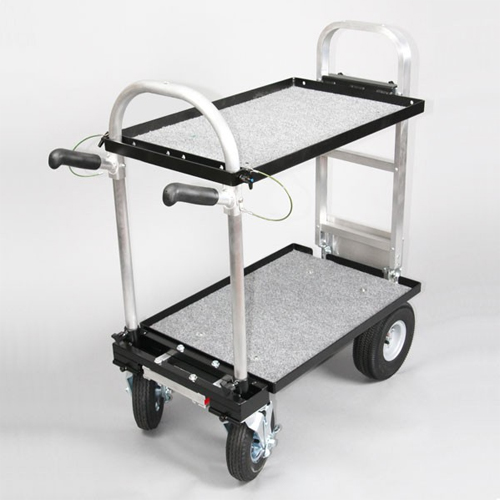 Upright: Length 16 ½" x Width 18″ x Height 33″
On 4 Wheels: Length 39″ x Width 18″ x Height 41″
The Magliner Mini Cart with 8″ Casters, G5 shelf and locking handles is a custom cart designed with digital imaging professionals in mind. The Mini cuts 10 1/2″ from the length of the original Magliner Junior and 3″ from the width. It has been a favorite with still photographers, digital capture and camera/video operators who are using the latest digital gear. All Magliner accessories work with this cart as well as new accessories that have been created exclusively for this version. 
This cart includes the Mag Mini 19″ G5 bottom shelf. The basic difference between the standard Mini Bottom Shelf and the G-5 Mini Bottom Shelf is the extra inch on the width which allows you to place the Mac Pro tower sideways.