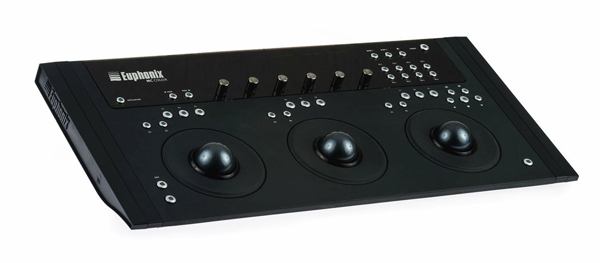 3 optical, high-resolution trackballs
3 optical, high-resolution trackwheels
6 touch-sensitive rotary encoders
6 high-resolution OLED displays
6 Reset keys
9 programmable Soft Keys to trigger keyboard shortcuts and macro commands
Transport and navigation controls
Ethernet connectivity for high-speed, high-resolution control
Supports EUCON, HUI, and Mackie Control protocols
Controls multiple applications and workstations
Slim, compact design for easy studio integration and portability
MC Color by Euphonix, alternately the Avid Artist Control, offers deep tactile control and integration with Apple Color, REDCINE-X, Smoke for Mac, and STORM, helping you speed up your color grading workflow through high-resolution trackballs, trackwheels, touch-sensitive encoders, and a host of programmable keys—all in a slim design. MC Color delivers deep, integrated control of Apple Color with simple plug-and-play operation. Just install the EuControl software, attach your MC Color, and take control of this powerful application.
Dimensions (W x H x D): 20″ x 9.5″ x 1.2″ (50 x 24.1 x 3 cm)
Weight: 5.5 lbs (2.5 kg))
Line voltage: 100 – 240 V AC
Frequency: 50 Hz to 60 Hz
Included in Dreadnought D.I.T. Cart package by Bertone Visuals.
Artist Color controller
Artist Series DVD-ROM (includes software and electronic user guides)
Ethernet crossover cable cable
Rise brackets (2)
Universal AC power adapter
Quick setup guide