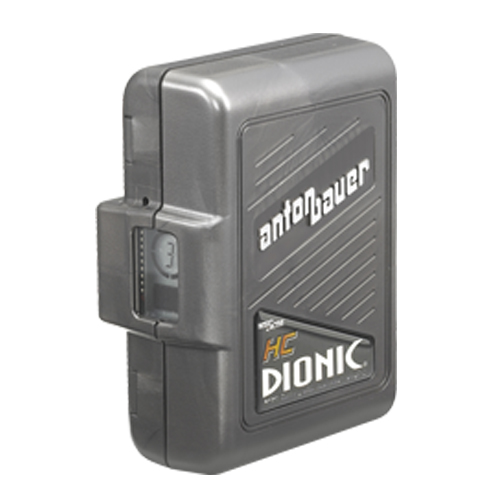 The DIONIC HC is capable of delivering up to 10 amps for high current draw applications, including on-camera lighting. The 91 watt-hour DIONIC HC can operate a 40 Watt HD camera for over 2 hours.
Size: 4.06 x 5.46 x 2.34 in (10.31 x 13.87 x 5.94 cm)

Weight: 1.8 lbs (0.8 kg)

14.4v 91Wh (Nominal 91 Wh; Typical 83 Wh) Li Ion battery

Ideal for High Current Applications

Integral digital features

NEW RealTime LCD Display

Compatible with current Anton/Bauer InterActive charger series.

Meets regulatory requirements including CE

MAXX II Warranty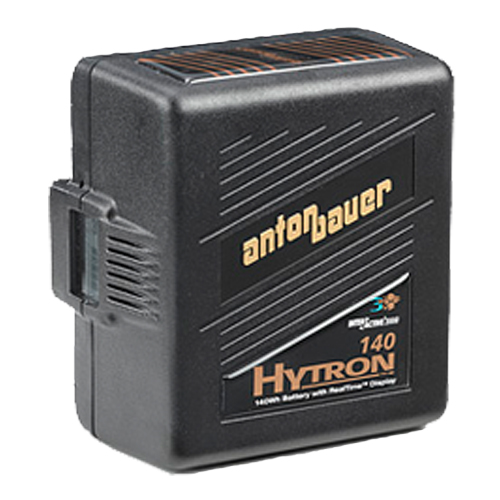 This high power NiMH battery system is ideally suited to the power demands of today's high definition equipment and on-camera lighting systems. In lower power applications, it can provide power for many hours without limits or travel restrictions. The HyTRON 100/140 also offer an excellent counterbalance to offset the weight of a lens.
With the transition to HD cameras, the HyTRON 140 typically provides up to four hours of run-time with a single battery.
Size: 4.75 x 2.90 x 5.45 in (12.06 x 7.37 x 13.84 cm)

Weight: 5.5 lbs (2.5 kg)

14.4v 140Wh NiMH battery

Increased weight/power ratio

Ideal for High Current Applications

Can be used with HMI portable ballast lights

Integral digital features

REALTIME display

Compatible with current Anton/Bauer InterActive charger series.

Meets regulatory requirements including CE

MAXX II Warranty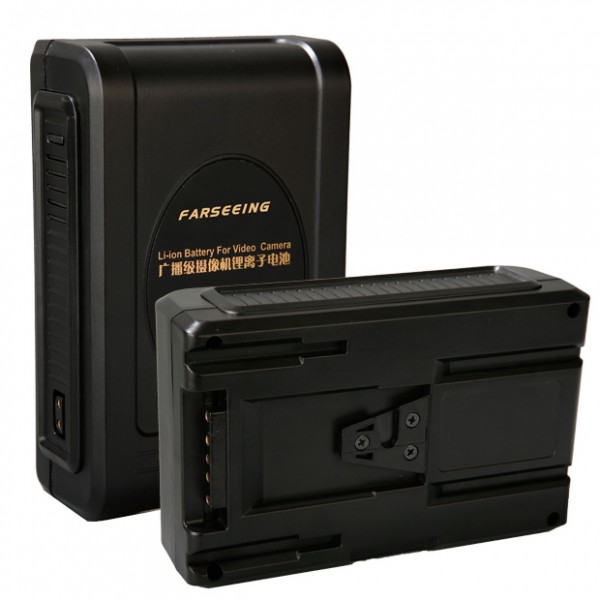 SUPER CAPACITY 160Wh Professional Lithium Ion Battery
5 Level LED power indicator

Non-memory effect: charge and use at any moment

Perfect protection circuit: Intelligent control and protection circuit. Provides the protection for overvoltage, undervoltage, overcurrent, outside circuit short and non-equilibrium in unconventional situation. To fully protect the battery.

Industry standard Power Tap Mount: To provide the UltraLight power supply directly to lights.

The super large capacity and high quality constant power fully satisfies the power requirements of video cameras.

Outputs 14.8V at 11Ah.

Operating temperature: -20℃~+55℃.

Compatible with all the professional video cameras using SONY V series battery pack (e.g., BP-L40, L60 and L90), such as Betacam SX, Digital Betacam, DVCAM series, as well as RED One Cameras

Can be charged with standard SONY BC-L50 Type L i-ion battery charger or equivalent 12V V-mount charger including FC-B1 type Farseeing charger