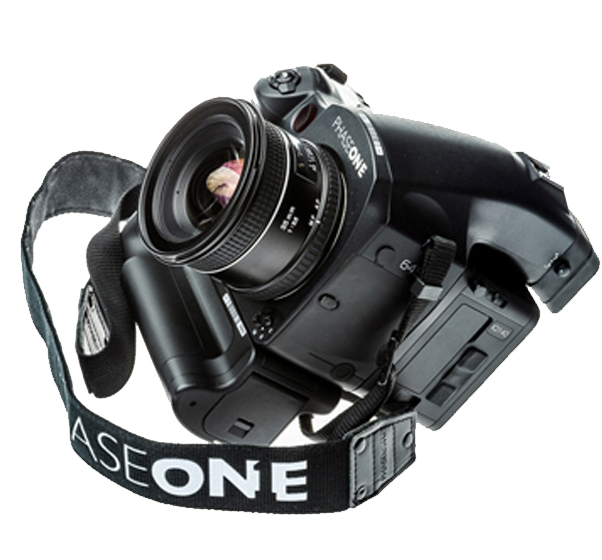 Available Lenses – 35mm, 80mm, 150mm Schnieder Leaf Shutter Lenses -Flash Synchronization Speed up to 1/1600 of a second (basically you can overcome sunlight)
What is really amazing is checking out the images on the touch screen display with the ease of operating an iphone. In our rental package we provide super fast 32gb compact flash cards from SanDisk. (600 mb/s) Where as if you shoot tethered to a laptop you will be using a faster firewire 800 cable to directly transfer images to Capture One or Adobe Light Room. We also provide a radio accessory to synchronize with Profoto Professional strobes and power packs. Finally, the auto focus of the Phase One is superior and faster than the auto focus available on Hasselblad cameras. For slightly more than the DSLR rental price you can rent a very powerful creative tool that delivers a Boka that is simply not reachable with any DSLR camera. This is because the size of the sensor compared to DLSR sensors on the market.
The medium format lenses are designed for larger sensors rather then DSLR C-MOS sensors, and because the sensor of the IQ-140 is a 3-CCD the overall quality feeling can not be matched by any DSLR camera currently on the market. Basically, pictures of jewels, cars, motorcycles that are shot for advertising purposes require medium format technology. Usually medium format cameras do not perform too well at high ISO levels, but with the phase one technology there is a mode to increase the ISO up to 800 ISO without introducing noise. The Software interpolates between 4 pixels and records a resulting 1 pixel that is used in the final image. This technology is crucial to allow a lower resolution but no noise in the image for those shots where high ISO is important and flash is not an option
Extraordinary capture becomes natural through ease of use and direct control on the touch screen. Combined with some of the world's best digital backs, the 645DF+ camera offers the most versatile shutter speeds in the market, ranging from 1/4000s to 60 minutes. Combined with the new Phase One leaf shutter lenses the 645DF+ camera supports an unprecedented highflash and as we mentioned above a sync speed of up to 1/1600 of a second opening new creative windows for photographers. The mirror and viewfinder of the Phase One 645DF+ camera are almost three times larger than those of 35mm cameras, providing much greater control of focus and composition. While hosting a complete list of features and custom functions, the Phase One 645DF+ camera is extremely easy to use. All settings important to the exposure are easily controlled by manual dials and buttons.
Imaging technology
CCD
Full frame CCD
Lens Factor
1.3 / Full frame
Resolution
40 megapixel
Active pixels
7320 x 5484
CCD size effective
44 mm x 33 mm
Pixel size
6 x 6 micron
Image ratio
4:3
Dynamic range
12.5 f-stops
IQ180 full resolution capture mode
Resolution
40 megapixel
Pixel size
6 x 6 micron
RAW file compression
IIQ large: 40 MB
IIQ small: 26 MB
ISO
50, 100, 200, 400, 800
Sensor + capture mode
Resolution
10 megapixel
Pixel size
12 x 12 micron
RAW file compression
IIQ large: 10 MB
IIQ small: 7 MB
ISO
200, 400, 800, 1600, 3200
Output files
Color depth
16 bit per color
Image file formats
All output formats of Capture One are possible: TIFF-RGB, TIFF-CMYK, JPEG
Color management
RGB, Embedded ICC profile, CMYK
LCD screen
Size
3.2″
Resolution
1.15 megapixel
retina type multi touch screen
Viewing angle
170º
Lighting
Supports all photographic lights:
Flash, tungsten, daylight, fluorescent, HMI

Operating conditions
Temperature
0º to 40ºC (32º to 122ºF)
Humidity
15 to 80% RH (non-condensing)
Computer minimum requirements
Mac
Fast Intel Core™ 2 Duo or later CPU, 4 GB RAM, Fast HDD: RAID 0 configured systems for max per-formance, Nvidia 8800 series graphics card or newer
PC
Intel® Pentium® 4, 4 GB RAM, 64bit,10 GB free hard disk space, IEEE 1394 interface, Windows XP®, Service Pack 3 or Windows Vista®, Service Pack 1
IQ back mounts
Phase One/
Mamiya
Phase One 645DF/AF
Mamiya 645DF/ AFDIII
Phase One H101
Hasselblad H1 and H2
Hasselblad V
Hasselblad 555ELD, 553ELX, 503CW and 501CM
Via adaptor: Mamiya RZ67 Pro II
Mamiya RB67
Contax
Contax 645AF
Wide angle & technical cameras
4 x 5″ via FlexAdaptor: Arca Swiss, Cambo, Linhof, Toyo, Sinar, Plaubel, Horseman.
Storage files
Phase Ones IIQ RAW file format speeds up the image capture and file transfer. It increases the storage capacity by turning the full 16 bit image data into a compact RAW file format.
The default IIQ RAW-large format is completely lossless.
Software
Capture One 6.1 or later
Certifications
CE