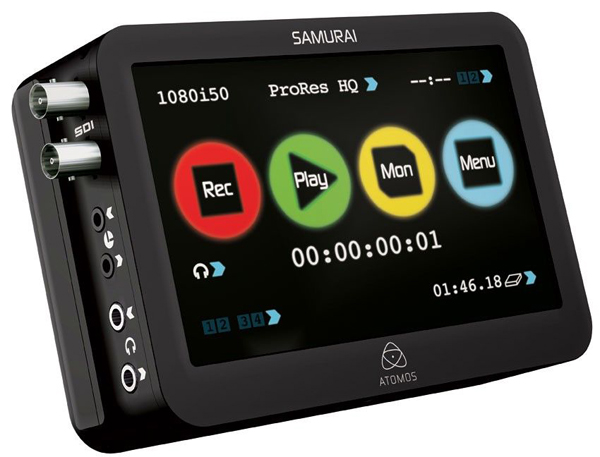 5″ TFT/LCD 800×480 super high resolution screen

Recording direct to Apple ProRes or Avid DNxHD via HD/SD-SDI – pristine HD uncompressed video from camera lens and sensor directly to selected codec

Simple intuitive touch screen functionality – no complicated menu

Instant playback for review of Apple Prores files to the Samurai screen

HD/SD-SDI Connecitvity

24 PsF support with 24/60i 3:2 pulldown removal on capture

SDI Play Out or Loop-though: connect to an external broadcast monitor or director's monitor and record and playback on set

Screen Flipping

Continuous Power – Atomos Continuous Dual Battery Technology

Affordable Storage – Infinite affordable 2.5″ HDD/SSD storage capability
The Atomos Samurai is a portable touchscreen-operated HD recorder, monitor and playback device for video professionals. It captures pristine 10-bit 4:2:2 video and audio direct from any camera with HD/SD-SDI output. The Samurai consumes very little power, ensures long recording times (up to 16.5 hours on a 750GB disk) and the efficient use of batteries.

RECORD TRIGGER
The Samurai opens up the efficient and cost-effective world of file-based workflows from an intuitive touchscreen monitor. Capture content in real-time directly from the camera sensor and encode it to Apple ProRes or Avid DNxHD formats, eliminating the lossy, time consuming capture-to-edit process. Bypass the image-degrading compression of in-camera flash storage, and use the limitless and cheap storage of your own removable 2½-inch hard disks.
Key features of the Samurai's AtomOS operating system include record triggering via a start/stop flag or timecode, SmartMonitor focus/exposure monitoring assist (including focus peaking and false colour) and SmartLog for pre-editing (reviewing, marking and tagging) footage. Use Samurai to play directly on-air from a remote location: full quality HD-SDI playback from a deck in the palm of your hand.

TOUGH IN THE FIELD
Continuous Power on the Samurai allows you to unplug the depleted battery and replace it with a fully charged one without interrupting recording. The Samurai comes with an AC power adaptor and two Lithium Ion camera batteries, which offer up to 10 hours battery life for continuous power both on location and in the studio.
The Samurai is built from aircraft-grade aluminium. It's light and can be mounted almost anywhere. All accessories come in a rugged case: batteries, chargers, disk caddies and a PC/Mac docking station. Just add your own HDD or SSD hard disk.

Dimensions (without batteries)
140mm (W) x 87mm (H) x 41mm (D)

Lightweight
390 (without batteries & HDD)
690 (with batteries & HDD)