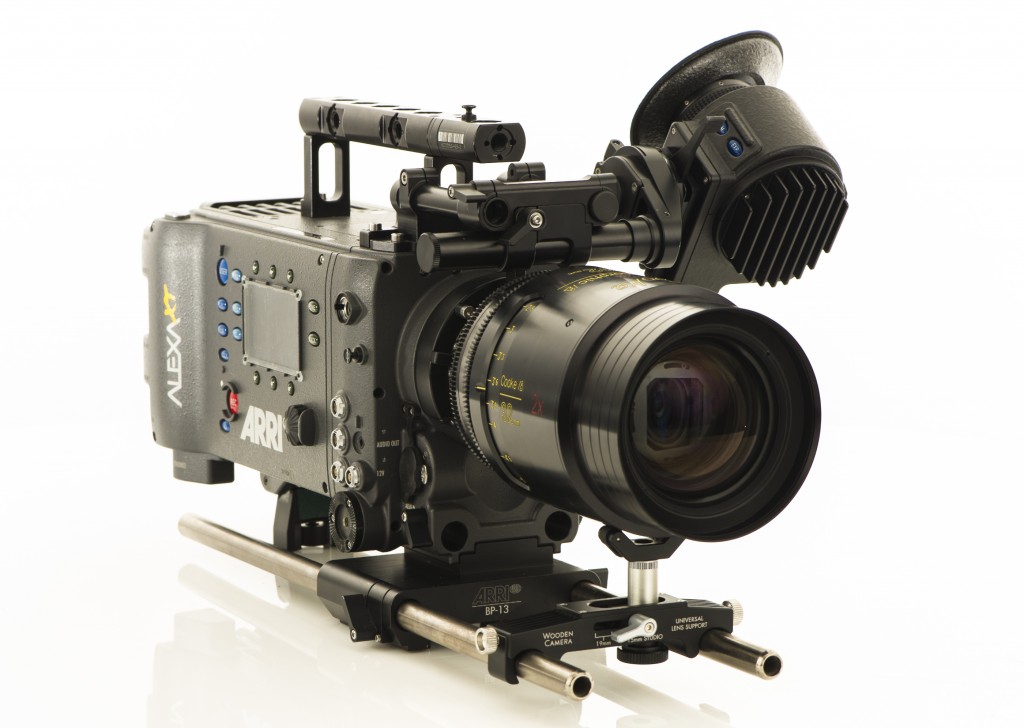 Sensor
35 format ALEV III CMOS sensor with Bayer pattern color filter array.
Photo Sites
16:9
2880 x 1620 used for ARRIRAW 16:9
2880 x 1620 down sampled to 1920 x 1080 for HD-SDI, ProRes HD 16:9 and DNxHD HD 16:9
2868 x 1612 down sampled to 2048 x 1152 for ProRes 2K 16:9
4:3 Full
2880 x 2160 used for ARRIRAW 4:3 Full
2868 x 2150 down sampled to 2048 x 1536 for ProRes 2K 4:3
4:3 Cropped
2578 x 2160 used for ARRIRAW 4:3 Cropped
Open Gate
3414 x 2198 used for ARRIRAW Open Gate
For a drawing with details about the recording areas, surround views and framelines,
page 1 of 2 click here
For a drawing with details about the recording areas, surround views and framelines,
page 2 of 2 click hereOperating Modes16:9, 4:3 Full, 4:3 Cropped or Open Gate sensor modes. Switching takes approx. 60 seconds. 16:9 available for ARRIRAW, ProRes and DNxHD recording. 4:3 Full available for ARRIRAW and ProRes 2K recording. 4:3 Cropped and Open Gate available for ARRIRAW recording.
Regular or High Speed mode. Switching takes approx. 20 seconds.Frame Rates16:9
ProRes HD 0.75 – 120 fps
ProRes 2K 0.75 – 60 fps
DNxHD HD 0.75 – 120 fps
ARRIRAW 0.75 – 120 fps
4:3 Full
ProRes 2K 0.75 – 48 fps
ARRIRAW 0.75 – 90 fps
4:3 Cropped
ARRIRAW 0.75 – 96 fps
Open Gate
ARRIRAW 0.75 – 75 fps
All speeds adjustable with 1/1000 fps precision. To record above 60 fps, the camera needs to be switched to high speed mode.
Note: some limitations based on recording media or recording file settings apply.
The Arri Alexa XT (Extended Technology) is the latest evolution from Arri of an already very successful digital cinema camera the Arri Alexa Plus 16:9.
Differently from the Alexa Plus EV and Plus, the Alexa XT features a four third sensor (4:3) meaning that the usable surface of its sensor it is slightly bigger than the one of the Alexa 16:9 and it allows to shoot with x 2.0 anamorphic lenses such as our Cooke Anamorphic/i primes and the Angenieux Optimo 56-152mm 2S T4.
In order to provide the best experience while shooting in Anamorphic format we provide the SmallHD DP7 pro on board monitor that has the un-squeezing features that allows the proper monitoring out on the camera.
The Alexa XT differently from other Alexa models has internal IRND filtration and it can record Arri Raw internally without the need of external recorders.
The Arri Alexa XT is the only digital camera on the market at the moment that shoots in anamorphic format with 2.40 aspect ratio without any crop of the frame.
We recommend a studio set up with 19mm studio rods and matte box if your production is planning to use Cooke Anamorphic lenses and we will also provide in the package a universal lens support to prevent any stress on the positive lock mount.
Finally, if you have the need to shoot in 16:9, but you still want the built in Codex recorder feature you can have the 16:9 (typical of the S35mm) format available also on the Alexa XT.