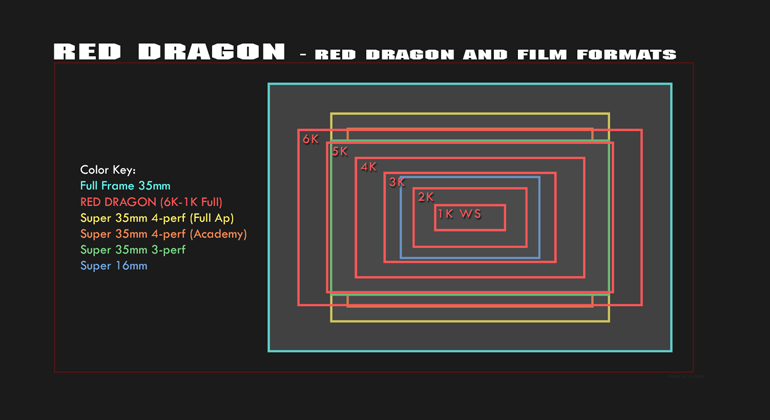 POSTED ON
October 28th
- POSTED IN
Info
Nice too see 2K, 3K, 4K, 5K, and 6K sensor size vs different film formats.
Here is a great write up regarding the RED DRAGON 6K sensor by Phil Holland.
6K is the maximum resolution of the RED Epic Dragon. 6144×3160 or 19.4 megapixels at a 1.94:1 aspect ratio.
6K is 9.36 x more pixels than 1080p.
6K is 8.78 x more pixels than 2K.
6K is 2.2 x more pixels than 4K.
6K is 1.4 x more pixels than 5K.
At 300 DPI you can make a 20.48 x 10.53 inch print from a full 6K Dragon image.
At 150 DPI you can make a 40.96×21.067 inch print from a full 6K Dragon image.
6K is 14% more resolution than 5K for a pristine full debayer down to 4K. Meaning it's a 66.7% down sample/debayer to 4K.
If we're thinking about a 4K finish, having more resolution effects color and luminance in a good way. It also gives a bit more freedom for creative re-framing, cropping, or leveling. Fine and high frequency details will actually down sample into 4K and benefit from that extra resolution. There are many ways to work with and finish REDCODE for screen and print use. Over sampling and the use of a debayer pattern help eliminate aliasing artifacts. If you want crisp and detailed images there's options. If you want a smoother feel there's options. Just depends on what you're after and the workflow you choose.