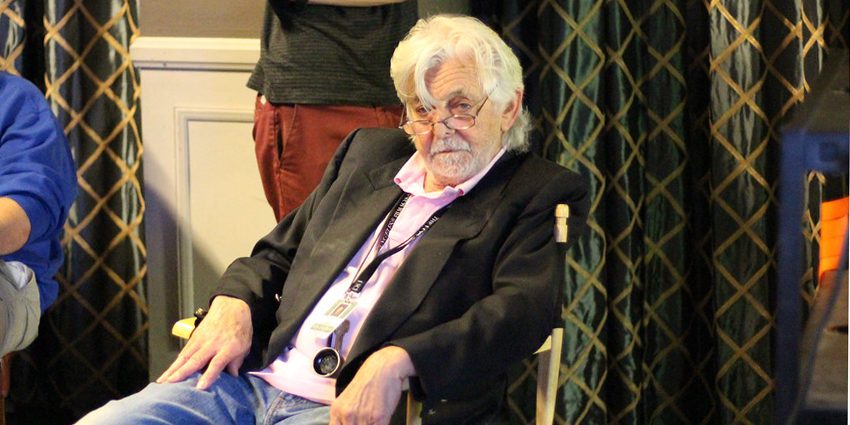 POSTED ON
December 9th
- POSTED IN
Info
This week here at Hollywood Camera Inc I had the pleasure of interviewing renowned Cinematographer and current faculty chair of the New York Film Academy cinematography department, Anthony B. Richmond A.S.C., B.S.C. Mr. Richmond will be at Hollywood Camera for the next two weeks guiding New York Film Academy students on Film/lighting workshops and preparing them for their upcoming final project.
Anthony B. Richmond, A.S.C. and B.S.C. is an accomplished Cinematographer whose career spans well over five decades. His most recent credits include: Good Luck Chuck; The Comebacks; Shade; Havana Nights;  Legally Blond; Ravenous;  Men Of Honor; The Sweetest Thing;  Someone Like You; Just Friends; John Tucker Must Die; Autopsy; Sex and Lies in Sin City; The Rocker; Alvin the Squeakquel; Coffee Town; as well as The Assets for Peter Medak.
Born and raised in London, Richmond literally worked his way up through the ranks to his current position of Director of Photography.  He began at the age of 16 as a messenger with Associate British Cinemas and later with Pathe-News, where he was promoted to the camera department.  He next worked as Assistant Cameraman on such films as: Call Me Bwana; From Russia with Love; Devil-Ship Pirates; The Gorgan; A Funny Thing Happened On The Way To The Forum; Truffaut's Fahrenheit 451 and David Leans's Dr. Zhivago.
Richmond served as focus-puller on Casino Royale and on Far From the Madding Crowd for Director John Schlesinger – whom he also later served as Cinematographer of the documentary Israel: A Right To Live made just days after the Six-Day War.  Shortly after  wards, Richmond began to work as Director of Photography on feature films; his first in 1967 Only When I Larf directed by Basil Dearden.
This award-winning Cinematographer has had numerous collaborations with Director Nicolas Roeg, lensing five of his films: Don't Look Now – for which Richmond won the prestigious BAFTA award; The Man Who Fell To Earth; Bad Timing; Heart Of Darkness; and Full Body Massage for Showtime.  Some of Richmond's other credits include: The Sandlot; Candyman; Stardust for Michael Apted; Playing God; Dirty Dancing: Havana Nights; Rough Riders for John Milius; Silver Bears for Ivan Passer, That's Life and Sunset for Blake Edwards; The Eagle Has Landed for John Sturges; and The Greek Tycoon for J. Lee Thompson. He also served as DP on Tony Goldwin's directorial debut Walk On The Moon, Sean Penn's directorial debut Indian Runner, and Anjelica Houston's directorial debut Bastard Out Of Carolina, and collaborated again with her on: Agnes Brown and Riding The Bus With My Sister.
Richmond was also responsible for photography on the seminal British music scene of the late 60's.  He shot the Rolling Stones classic, Sympathy For The Devil for Jean-Luc Godard, with which he then collaborated with Michael Lindsey Hogg on The Rolling Stones Rock And Roll Circus and the Beatles Let It Be.  His other rock and roll credits include: the Who's The Kids Are Alright, as well as the Documentary Glastonbury Fayre.
Most recently in 2015, Richmond has been brought on board as New York Film Academy's faculty chair of the cinematography department. Anthony has taught the next generation of Cinematographers and frequently collaborates with Vendors and the outside community to development lasting relationships between his students and industry professionals. He relishes mentoring aspiring filmmakers and looks forward to meeting with students to discuss their needs on upcoming projects.
In addition, as an accomplished Cinematographer, Anthony is a member of the Academy Motion Picture Arts & Sciences (A.M.P.A.S), British Academy of Film & Television Arts (B.A.F.T.A), American Society of Cinematographers (A.S.C), and British Society of Cinematographers (B.S.C).
After Interviewing A.S.C., B.S.C. Anthony Richmond, it was fascinating to hear how much knowledge, experience, and success Richmond has had throughout his established career. From starting in the camera department in 1959 and working his way up to his current success, Richmond is a prime example to all aspiring cinematographers that diligence and determination certainly goes a long way. Lastly, I asked Richmond what advice he would give to aspiring cinematographers. Mr. Richmond stated that taking chances, keep shooting, and learning from your mistakes is the remedy for success.