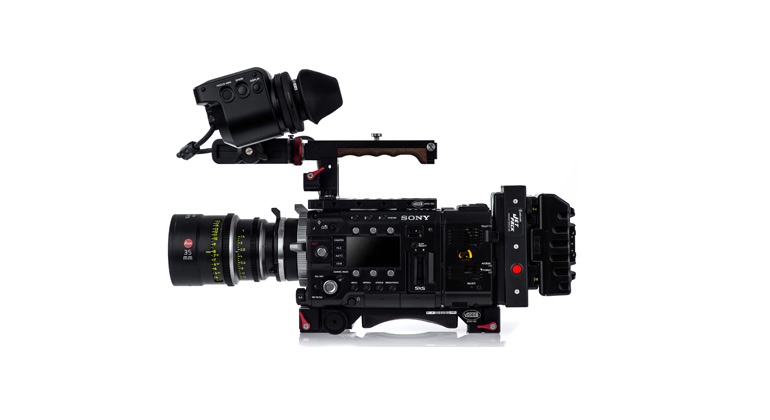 The Sony F55 CineAlta is one of our flagship cine cameras at Hollywood Camera. It has been accessorized in great detail to be highly flexible and friendly towards 1st AC's and Camera Operators.
You can accessorize the F55 however you like that's best for you and the job in hand, but we have put together our version and we would like to share it with you.
For this camera package we used the O'Connor 2565 fluid head on Ronford-Baker sticks with a standard Mitchell plate. Being a studio setup we decided to use 19mm rods with an additional Arri Quick Release on the bottom.
As for follow focus for this package we recommend the O'Connor CFF-1 since it is accurate, solid and can be mounted on 19mm rods, or 15mm rods with an adaptor or if you decide to use a single channel wireless focus system, the Hedén HLC-DA is a great choice.
When the camera is in studio mode with 19mm rods we used the Arri Matte Box MB-28 that comes with a rich kit of adaptor rings, hard matte mask and barn doors. When the camera is used hand-held style with the lightweight mini 15mm rods we suggest our light weight clip-on Matte Box, Arri LMB15.
An important mechanical accessory for this F55 package is the MTF lens adaptor. This mount adaptor allows you to mount Canon EF lenses on a camera that normally features a PL mount. At Hollywood Camera/Bertone Visuals we have a full set of six Canon Cinema CN-E primes that besides being 4K certified lenses they also have 11 iris blades for nice circular bokh. However, the PL mount is always an option if DP's want to go for our Zeiss CP2, Cooke S4i or the phenomenal Leica Summilux-C.
For on board monitoring we have a wide variety of choices: TVLogic 5.6", Transvideo Rainbow HD 7", Leader LV5330, SmallHD AC7 or the SmallHD DP7 that renders the Sony S-Log, besides many other advanced features like "high brightness" and preview LUTs.
A key power accessory for our Sony F55 is the Switronix JetPack that not only converts a V-lock mount to an Anton Bauer Gold Mount, but it also offers multiple kinds of power plugs to provide juice to accessories via two P-Taps, one 5V Lemo, one 7.2 V Lemo and one 12V Lemo. With the Jetpack it is easy to add a Cine Tape, powering a monitor or a wireless focus system. The JetPack has a USB power out port that becomes extremely useful when you have to power wireless HD transmitters such as the Paralinx ArrowPlus, the Paralinx Tomahawk or the Teradek Bolt Pro.
The Sony CineAlta F55 features a global shutter, although this is not comparable to a rotative mechanical shutter like the one on the Sony F65, it is a very useful addition because it prevents artifacts and jello effect when for any reason the camera has to be panned or tilted abruptly. The ergonomic design, plus a lightweight body, makes the Sony F55 suitable for the new Free Fly Systems Mōvi M15.
This camera can record compressed footage in-camera via SXS pro+ media cards using the new XAVC Sony codec. However, for theatrical releases where color depth and resolution comes very handy, we recommend to use the Sony AXS-R5 16 bit raw recorder that records .mxf footage in 2K and 4K up to 240 frames per second. Transcoding to HD for the editor is not mandatory anymore, if the non linear editing workstation is powerful enough, the .mxf 4K footage can be imported directly on the time line of Premiere CS6/CC or Avid Media Composer.
In January we shot two high frame rate (HFR) productions in cinema 4K resolution (not UltraHDTV) and the editing was executed smoothly natively in 4K at Bertone Visuals with Adobe Premiere CS6 on a old generation Apple Mac Pro, 3.3Ghz with 32GB of RAM and a 6G SAS raid 5 connected to it. Sony makes available online a free plug-in for Premiere CS6/CC and Avid Media Composer to import .mxf Sony raw clips coming from F65, F55, F5 and NEX FS-700 with AXS-R5 4K/2K Raw recorders. Sony also offers a free Raw Viewer that allows to set up looks, save LUTs, export a CDL and it also transcodes 4K .mxf Raw into an Apple ProRes Codec, or in a DPX sequence if needed.
Finally, the Sony F55 its possible to shoot using the new Log curve, S-Log 3 Cine and also with the more traditional S-Log 2 curve to maintain compatibility with the Sony F65. Basically, the S-Log 3 cine curve is less steep on the graph than the S-Log 2 and the blacks get expanded in a way that gives more options in a color correction session.
Hope you found this blog post informational about the potential of the Sony F55, but if you still have questions please do not hesitate to contact one of our experienced and professional rental agents regarding your production needs.
Check Sony F55 Availability Here!
Related Posts