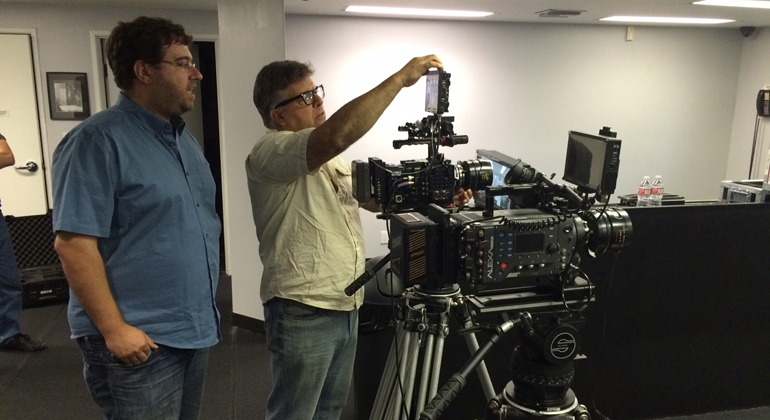 Pierre Chemaly DP – Sony F55 vs Arri Alexa Plus camera test at Hollywood Camera
A good friend of Hollywood Camera Pierre Chemaly who's been a DP since 1992 dropped in to run some camera tests for his upcoming feature film. Pierre's shot features/shorts, commercials and Aerial work all over Eurpoe, Africa and the US and like most has seen the transition from film to digital.
Gianluca Bertone from Bertone Visuals and Pierre discuss the pros and cons of the Sony F55 and the Arri Alexa Plus. Pierre wanted a camera package that was the best choice for the job, he wanted something lightweight and shoots 4k Raw, so he has the option to go to a theatrical release and not be restricted in quality.
SONY F55
The Sony F55 has a 8.9MP Super 35mm CMOS Image Sensor and can record Internal 4K/2K/HD. With the Sony AXS-R5 recorder that can be mounted onto the rear of the F55, enables 4K and 2K 16-bit RAW recording and high speed frame rates of up to 240 fps in 2K. It has a Electronic Global Shutter, Dynamic Range Rated at 14 Stops and a wider Color Gamut than Film.
---
Arri Alexa Plus
The ARRI ALEXA's CMOS Super-35mm sensor is rated at ISO 800. That sensitivity allows the camera to see a full seven stops of over exposure and another seven stops of underexposure, an unprecedented Dynamic Range. To take advantage of this, ARRI offers both industry-standard REC709 HD video output as well as the Log-C mode that shows the entire range of the chip's sensitivity, allowing for an extreme range of color correction options in post.
Outputs ARRIRAW, Variable frame rates 75 to 120fps, Adjustable electronic shutter and a 12-bit sensor depth.
When Pierre makes his decision we will let you know. Both great cameras!
Sony F55 vs Arri Alexa Plus camera test
Related Posts