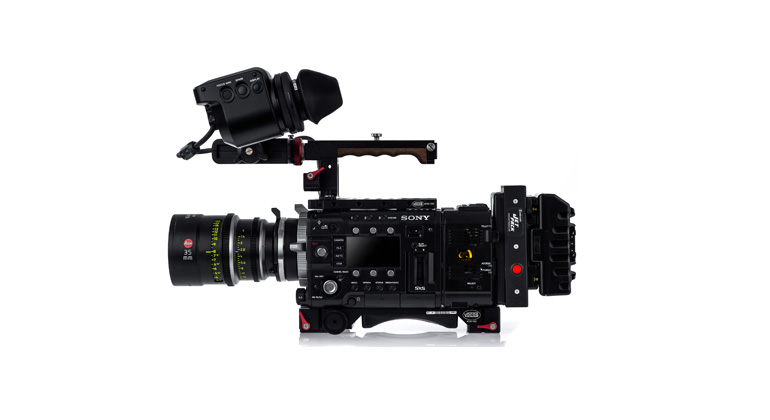 We had the opportunity to visit the Digital Motion Picture Center at Sony Pictures in Culver City.
The DMPC offers weekly hands-on training on Sony's full range of Super 35mm cameras, including the F65 CineAlta™ digital motion picture camera and the F55 4K digital camera.
Today's training was for the Sony F55. When we arrived in the morning we were seated in the theater section fitted with the latest Sony 4K projector. Spent a couple hours going through the Sony F55 features and recording formats.

This is truly an amazing camera packed full of features to suit most users. The sensor has a 11.6 million total photosites (8.9 million effective photosites). The F55 has the widest color gamut of all digital cameras out on the market including film.
A multi-codec design makes the F55 option friendly. The codec's on offer are HD (1920×1080) XDCAM 8-bit in Log/709/User, 4:2:2 50Mbps. XAVC 10-Bit in Log/709/User, 4:2:2 80Mbps. 2K (2048×1080) 10-Bit in Log/709/User 80Mbps and 2K RAW 16-Bit Linear 240 Mbps. UHD (3840×2160) 10-Bit in Log/709/User 4:2:2 240Mbps. 4K (4096×2160) 10-Bit in Log/709/User 4:2:2 240Mbps and 4K RAW 16-Bit Linear 1Gbps.
With the attachment of the AXS-R5 RAW recorder you can record RAW 16-bit 2K and 4K at 240 Mbps and 1 Gbps. The AXS-R5 recorder uses the AXS memory cards. 512GB @2.4gbps – 300Mbps. Possible frame rates are 2K RAW at 1-240 FPS and 4K RAW at 1-60 FPS.
The Sony F55 also has internal recording to SxS cards. The SxS PRO+ media cards can capture in HD at 1-180 FPS, 2K 1-180 FPS, UHD 1/60 FPS and 4K 1-60. You have the option of 64GB and 128GB with write speeds of up to 1.5Gbps.
The F55 is a PL mount with lens interface for metadata. This is clever by Sony because it allows lenses from Cooke/i and Arri to communicate with the camera.
There is no shortage of connections on the side of the camera. With four SDI ports, two MAIN and two SUB. MAIN SDI will give you clean picture only and the SUB SDI ports will allow user info and camera specs to overlay picture. A single HDMI connection is also available. There is also TC ports, two XLR audio channels and proprietary VF connection for the Sony Viewfinder.
For power you have the 4-pin XLR connection and with the AXS-RD recorder attachment on the back, you also get two Hirose connections.
The menu can be confusing at first. I think Sony has tried to listen to everyone's feedback and ended up with a real deep menu. It'll take a while to get to know all the functions and possibilities through the menu layout but there are some basics you need to know from the start.
Press the 'MENU' button to enter the main menu system of the F55. Here you will be able to access most functions. Sony uses their own root naming for most of the sub headings and that can be confusing at first. Go to the User Menu then Base Setting, you will have four main options. Shooting Mode allows you to choose from Custom or Cine EI. We recommend Cine EI for any cinematic filming. Main Operation will give you the option to shoot in RAW if you have the AXS-RD RAW recorder, RGB or YPbPr. If you want to shoot 4K internal using the XAVC codec you need to choose YPbPr. Next is Color Space, you have three options here. Sony Slog3 is their latest SLog released by Sony and S-Gamut3 seems to be the one most people choose. Finally Imager Scan Mode. If your filming in 4K then leave it on normal but if you're planning to film in 2K, Sony gives you an option here with 2K Full or 2K Center. 2K Full will allow you to film using the full sensor, so it wont crop the sensor, it will just drop pixels. This option will allow you to keep the correct field of view with the lens that is attached to the camera. 2K Center will not drop pixels but crop the sensor. This will change the field of view.
Resolution is an important feature to choose and it will depend from project to project. Budget, post production work flow, archiving and final deliverable are some things to consider before you make this decision. To choose recording format go back to User Menu, choose Rec Format. Here you will have a few options but the one we usually go for is the XAVC 4096x2160P or XAVC 2048x1080P.
We plan to go back to the Digital Motion Picture Center at Sony Pictures for the Sony F65 training. We had a lot of fun getting hands on with the F55, on the same stage we shot 4K, processed them through a 4K workflow and viewed the results on a 4K projector! If this is a camera you plan to be filming on some time in the future I highly recommend you sign up and attend the training event. If you decide that this is the right camera for you, feel free to call us at Hollywood Camera, as we have the Sony F55 and Sony F65 for rent.
Check Sony F55 Availability Here!
Related Posts